NetClock Time Accounting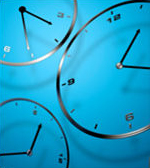 Bring your time accounting into the digital age.
Many companies claim to simplify time accounting. We really do. Valley's NetClock electronic time clock puts an end to complicated time calculations and fussy time cards for good!
Our Internet-based system does all of the accounting and calculations for you. Your employees simply swipe a card, touch a bio-reader or clock in and out from any PC with Internet access. You can see updated totals, edit employee punches and monitor time and attendance across your organization – all from the convenience of your desktop.
Print reports from any location.
Need a report? You've got it. NetClock lets you view and print a wide variety of reports from any workstation.
With NetClock, you never have to load software, juggle timecards or worry about a thing. Time accounting is always efficient, cost-effective and surprisingly easy.
NetClock features include:
Standard Features.
Automatic clock setting (daylight savings time).
No Internet fees.
No long distance telephone charges.
Multiple locations can connect
their clocks to one network.
Custom Options.
Automatic overtime calculation.
Automatic lunch deduction.
Department costing.
Job costing.
Multiple rounding options.
Tips reporting.